Mission Statement
It is my goal to assist my patients in their return to health as comfortably and quickly as possible. I encourage education and active participation of my patients in their achieving and maintaining optimum health. 
--Dr. Lisa Devlin



Lisa Devlin, DC, MS is an Activator Methods Chiropractic practitioner.  She has been in private practice in Mountain View, CA since 1993.  Three times voted the "Best Chiropractor in Mountain View" in 2005, 2006, and 2007, Dr. Devlin's mission is to assist her patients in their return to health as comfortably and quickly as possible. She encourages education and active participation of her patients in their achieving and maintaining optimum health. She explains to each patient what their condition is and the treatment procedure. If you have a question, she is always accessible via phone or email.

Chiropractic Care for Animals
Chiropractic care has been provided to humans in the United States for over a century. Recently, the demand for chiropractic care for animals has increased. Any animal with a nervous system and a spinal column with vertebral joints may benefit from chiropractic care as humans do. The necessity of maintaining proper joint motion and alignment in the spinal column is important for all vertebrates.

About Dr. Lisa Devlin 
Dr. Lisa Devlin is a Doctor of Chiropractic licensed in the states of California and Nevada. She holds a license as an Animal Chiropractor in Nevada issued by the Nevada Veterinary Board. Her undergraduate education is in zoology and biochemistry. She completed the certification course offered by Options for Animals in 1998. Dr. Devlin is not a veterinarian and does not have the training or license to practice as a primary care provider for animals. Her services are available through veterinary referral only.
In CA: California Veterinary Practice law states that Musculoskeletal Manipulation (Chiropractic) may only be performed by a trained and currently licensed Chiropractor or Veterinarian. The law also requires that, as a licensed chiropractor, I see your small animal in a veterinarian's office. This can either be at your regular vet or at one of the offices I work in. Currently, I can see your small animal at either Wildwood Veterinary Hospital in San Jose or Sunnyvale Veterinary Clinic in Sunnyvale. Please call Dr. Devlin first for details on chiropractic care for your small animal. Large animals may be seen in a range or ranch setting with a veterinary referral.
In NV: I can see your large or small animal at any location with a veterinary referral.
If you are a veterinary office in either California or Nevada that would like to add Chiropractic to the services you offer, please call Dr. Devlin to discuss.
Dr. Devlin is available to speak to your group or club about chiropractic care for animals.
Dr. Lisa Devlin, D.C., M.S.
1265 Montecito Ave., Ste. 105
Mountain View, CA 94043

Phone: 650.428.0950



Office Hours

Monday

10-6

Tuesday

8-noon
Afternoon off site for Animal Care

Wednesday

9-5

Thursday

Off site for Animal Care

Friday

8-5

On rare occasions, my office hours may change. Please check the Calendar or call the office for up to date information.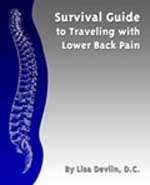 Please check out Dr. Lisa's booklet: Survival Guide to Traveling with Lower Back Pain. Click above for more booklet info.