Mission Statement
It is my goal to assist my patients in their return to health as comfortably and quickly as possible. I encourage education and active participation of my patients in their achieving and maintaining optimum health. 
--Dr. Lisa Devlin



Lisa Devlin, DC, MS is an Activator Methods Chiropractic practitioner.  She has been in private practice in Mountain View, CA since 1993.  Three times voted the "Best Chiropractor in Mountain View" in 2005, 2006, and 2007, Dr. Devlin's mission is to assist her patients in their return to health as comfortably and quickly as possible. She encourages education and active participation of her patients in their achieving and maintaining optimum health. She explains to each patient what their condition is and the treatment procedure. If you have a question, she is always accessible via phone or email.

Links
| | |
| --- | --- |
| | Activator Methods International has been providing chiropractic care, resources and training since 1967. Founded on the principles of clinical research, the company's major contribution to chiropractic care is discovery and development of the world's most popular instrument adjusting technique, the Activator Method. |
| | Chiropractors diagnose and treat common spinal misalignments that can occur from lifestyle or injuries causing pain, discomfort and degenerative conditions. Lisa Devlin, D.C. may be able to treat; back pain, sciatica, neck pain, shoulder pain, headaches, sports injuries, and work-related injuries. |
| | Sacramento's First & Only Class IV Laser Therapy Center for Pain. Laser Therapy is the application of laser light over injuries or lesions to improve wound & soft tissue healing and give relief for both acute and chronic pain. |
---
| | |
| --- | --- |
| | American Veterinary Chiropractic Association (AVCA) is a professional membership group promoting animal chiropractic to professionals and the public, and acting as the certifying agency for doctors who have undergone post-graduate animal chiropractic training. Members working together within their disciplines to expand and promote the knowledge and acceptance of animal chiropractic to their professions, the public and governments; locally, nationally and internationally. |
| | Options for Animals - Veterinary Chiropractic teaching college |
| | AVCA Certified Doctors - find an AVCA Certified doctor in your area |
| | Harmonizing Your Horse's Health was born as Dr. Amy and Dr. O realized that there is truly only one disease... cellular dysfunction. This program is an extension of how they treat patients in their day to day practice of veterinary medicine. A practice where they attempt to help owner's find better ways to have healthier horses, not just horses with band aids. Dr. Amy practices in South Carolina while Dr. O works in Texas. Our mission is to help you the horse owner. |
| | Pet Services include Physical Exams, Exotics Exams, Vaccinations, Emergency Care, Dental Care, Hospitalization, Surgery, Special Diets, Grooming and Boarding. |
| | We are committed to providing the highest quality care for your pets. With us, you will receive excellent service with a personal touch. Our experienced, compassionate veterinarians are dedicated to their patients and clients. Our friendly staff will make you and your pet feel right at home. |
---
K-LaserUSA is a US Company based in Franklin, Tennessee. Your K-Laser is sold, serviced and supported by the Professional Staff, Doctors and Service Technicians in the United States of America. We provide the most advanced technology, which combined with a portable, color touch-screen, USB updatable, user-programmable software platform, offers the most versatile coverage of the therapeutic spectrum on the market.
Founded in 1922, Chamber of Commerce Mountain View is a Silicon Valley-based public benefit corporation dedicated to enhancing the economic viability of the community. Funded by its membership of over 500 organizations and businesses, the Chamber serves as the collective voice of local business and industry. Through progressive leadership, our organization offers programs and services that support members, and in turn, support the community.
---
We're always looking for more great places to get more chiropractic information. If you know of a great chiropractic site we didn't have above, please send us a note with "Here's a great chiropractic site" in the header.
Thank you,
Dr. Lisa Devlin
Dr. Lisa Devlin, D.C., M.S.
1265 Montecito Ave., Ste. 105
Mountain View, CA 94043

Phone: 650.428.0950



Office Hours

Monday

10-6

Tuesday

8-noon
Afternoon off site for Animal Care

Wednesday

9-5

Thursday

Off site for Animal Care

Friday

8-5

On rare occasions, my office hours may change. Please check the Calendar or call the office for up to date information.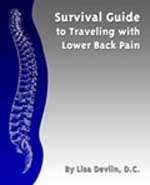 Please check out Dr. Lisa's booklet: Survival Guide to Traveling with Lower Back Pain. Click above for more booklet info.