Mission Statement
It is my goal to assist my patients in their return to health as comfortably and quickly as possible. I encourage education and active participation of my patients in their achieving and maintaining optimum health. 
--Dr. Lisa Devlin



Lisa Devlin, DC, MS is an Activator Methods Chiropractic practitioner.  She has been in private practice in Mountain View, CA since 1993.  Three times voted the "Best Chiropractor in Mountain View" in 2005, 2006, and 2007, Dr. Devlin's mission is to assist her patients in their return to health as comfortably and quickly as possible. She encourages education and active participation of her patients in their achieving and maintaining optimum health. She explains to each patient what their condition is and the treatment procedure. If you have a question, she is always accessible via phone or email.

Site Map
Home Page
Home
---
About Us
About Dr. Lisa Devlin, DC, MS
What Others Are Saying
Privacy Policy
---
Human Chiropractic
What Is Chiropractic?
Subluxation Chart
Activator Technique
Frequently Asked Questions
Links
---
Animal Chiropractic
About Animal Chiropractic
Animal Chiropractic FAQs
Links
---
Class IV Laser Therapy
About Laser Therapy
About K-Laser
Laser FAQs
Laser Testimonials
---
Blog
Our Blog

---
Resources
Links
Power Partners
Booklet: Survival Guide
Site Map
---
Calendar
Event Calendar
---
Auto Racing
Racing Biography
Driving Resume
Sponsorship
Swift DB2 Sports 2000
SF Region SCCA
Great Racing Sites

---
Contact Us
Contact Lisa Devlin

Dr. Lisa Devlin, D.C., M.S.
1265 Montecito Ave., Ste. 105
Mountain View, CA 94043

Phone: 650.428.0950



Office Hours

Monday

10-6

Tuesday

8-noon
Afternoon off site for Animal Care

Wednesday

9-5

Thursday

Off site for Animal Care

Friday

8-5

On rare occasions, my office hours may change. Please check the Calendar or call the office for up to date information.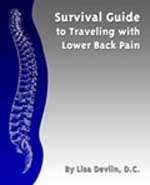 Please check out Dr. Lisa's booklet: Survival Guide to Traveling with Lower Back Pain. Click above for more booklet info.