Mission Statement
It is my goal to assist my patients in their return to health as comfortably and quickly as possible. I encourage education and active participation of my patients in their achieving and maintaining optimum health. 
--Dr. Lisa Devlin



Lisa Devlin, DC, MS is an Activator Methods Chiropractic practitioner.  She has been in private practice in Mountain View, CA since 1993.  Three times voted the "Best Chiropractor in Mountain View" in 2005, 2006, and 2007, Dr. Devlin's mission is to assist her patients in their return to health as comfortably and quickly as possible. She encourages education and active participation of her patients in their achieving and maintaining optimum health. She explains to each patient what their condition is and the treatment procedure. If you have a question, she is always accessible via phone or email.

The Event and the Audience - San Francisco Region Sports Car Club of America (SCCA)
The San Francisco Region Sports Car Club of America (SFR SCCA) regional road racing series is a local series, primarily drawing participants from the San Francisco Bay Area. The series consists of ten races, held over nine weekends. The season finale is the Pacific Coast Regional Road Racing Championships (PCRRC).
The races are held at local road racing venues: Sears Point International Raceway in Sonoma; Laguna Seca Raceway in Monterey; and the San Francisco Region owned Thunderhill Raceway Park in Willows.
These races do not generally draw many spectators outside of the immediate racing community. While most spectators are friends and family of the drivers and officials, other spectators are welcome to come to watch the races. With the possible exception of the PCRRC, these events are free to spectators.
Racing in the Pacific Coast Regional Road Racing Championships is by invitation only. Hosted by the San Francisco Region, invitations to compete are sent to the top racers from each class in all of the West Coast Regions. Last year's Championships attracted drivers from as far away as Seattle, Washington, and Las Vegas, Nevada. Spectators are encouraged to attend this premier event, and there may be a small fee at the gate.
Dr. Lisa Devlin, D.C., M.S.
1265 Montecito Ave., Ste. 105
Mountain View, CA 94043

Phone: 650.428.0950



Office Hours

Monday

10-6

Tuesday

8-noon
Afternoon off site for Animal Care

Wednesday

9-5

Thursday

Off site for Animal Care

Friday

8-5

On rare occasions, my office hours may change. Please check the Calendar or call the office for up to date information.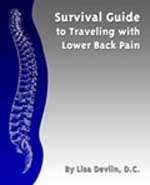 Please check out Dr. Lisa's booklet: Survival Guide to Traveling with Lower Back Pain. Click above for more booklet info.