Mission Statement
It is my goal to assist my patients in their return to health as comfortably and quickly as possible. I encourage education and active participation of my patients in their achieving and maintaining optimum health. 
--Dr. Lisa Devlin



Lisa Devlin, DC, MS is an Activator Methods Chiropractic practitioner.  She has been in private practice in Mountain View, CA since 1993.  Three times voted the "Best Chiropractor in Mountain View" in 2005, 2006, and 2007, Dr. Devlin's mission is to assist her patients in their return to health as comfortably and quickly as possible. She encourages education and active participation of her patients in their achieving and maintaining optimum health. She explains to each patient what their condition is and the treatment procedure. If you have a question, she is always accessible via phone or email.

Commonly Asked K-Laser Questions
---
Q. Does it hurt? What does a treatment feel like?
A. There is little or no sensation during treatment. Occasionally one feels mild, soothing warmth or tingling. Areas of pain or inflammation may be sensitive briefly before pain reduction.
Q. Are there any side effects or associated risks?
A. During more than twenty years of use by health care providers all over the world, very few side effects have ever been reported. Occasionally some old injuries or pain syndromes may feel aggravated for a few days, as the healing response is more active after treatment.
Q. How long does each treatment take?
A. The typical treatment is 3 to 9 minutes, depending on the size of the area being treated.
Q. How often should a patient be treated?
A. Acute conditions may be treated daily, particularly if they are accompanied by significant pain. More chronic problems respond better when treatments are received 2 to 3 times a week, tapering to once a week or once every other week, with improvement.
Q. How many treatments does it take?
A. This depends on the nature of the condition being treated. For some acute conditions 1 to 6 treatments may be sufficient. Those of a more chronic nature may require 10 to 15 (or more) treatments. Conditions such as severe arthritis may require ongoing periodic care to control pain.
Q. How long before the results are felt?
A. You may feel improvement in your condition (usually pain reduction) after the very first treatment. Sometimes you will not feel improvement for a number of treatments. This does not mean that nothing is happening. Each treatment is cumulative and results are often felt after 3 or 4 sessions.
Q. Can it be used in conjunction with other forms of treatment?
A. Yes! Laser Therapy is often used with other forms of therapy, including physical therapy, chiropractic adjustments, massage, soft tissue mobilization, electrotherapy and even following surgery. Other healing modalities are complementary and can be used with laser to increase the effectiveness of the treatment.
Q. How should I dress for a K-Laser treatment?
A. Your K-Laser treatment must be delivered directly to your skin. Wear clothing that will allow access to the area. Shorts, sweat pants, a sport bra or similar items are suggested. Alternatively, your doctor will have you change into a patient gown if the area needing K-Laser treatment is not readily accessible.
Q. What does it feel like to get a treatment?
A. Most patients describe it as a very soothing, warm sensation. Since the K-Laser is a high-powered therapy laser, your skin will get warm during the treatment. Many patients feel a significant reduction in pain on the first visit. Occasionally, patients will feel slightly more pain immediately after the treatment – and then feel much better the next day.
Q. How will I feel after the treatment?
A. You may feel pain relief after just the first treatment. For other patients, it takes a while longer. Most patients report feeling very relaxed, or even tired. If you feel a lot less pain, keep in mind that pain reduction is just one goal. The K-Laser is giving your body's cells more energy so they repair and regenerate new tissues. The effect of K-Laser therapy treatments is cumulative. You will be getting more benefit with successive treatments.
Q. Do I need to take special precautions after my K-Laser treatment?
A. For the most part, no. Obviously you do not want to overexert and reinjure yourself. You may need to make changes in your work station. If you are planning to work out, you may want to reduce the intensity, or change the nature of your exercise. Discuss this with your doctor.
Q. Should I use ice or pain relief gel after my K-Laser treatment?
A. One effect of the K-Laser treatment is vasodilation – which means your blood and lymphatic vessels have a larger diameter. This helps with inflammation reduction, but for some people the vasodilation can also make them sore. Use ice on the area, as directed by your doctor. You could use a pain relief gel, such a Biofreeze.
Q. I feel a lot better – but I still have sessions remaining in the K-Laser treatment package I bought. What should I do?
A. Pain relief is just one goal in your care. K-Laser treatments help your body's repair and regeneration processes. Completing your K-Laser session package will further assist the healing processes. We suggest that you use all the treatments in the package to ensure the most effective care possible.
Q. Why do I have to wear safety glasses during my K-Laser treatments? 
A. The K-Laser is a high-powered therapy laser. Laser light can be focused by the lens of your eye, and potentially cause damage to your retina. The safety glasses you wear specifically block out the wave lengths of light produced by the K-Laser.
Dr. Lisa Devlin, D.C., M.S.
1265 Montecito Ave., Ste. 105
Mountain View, CA 94043

Phone: 650.428.0950



Office Hours

Monday

10-6

Tuesday

8-noon
Afternoon off site for Animal Care

Wednesday

9-5

Thursday

Off site for Animal Care

Friday

8-5

On rare occasions, my office hours may change. Please check the Calendar or call the office for up to date information.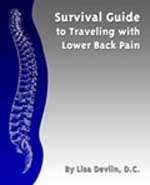 Please check out Dr. Lisa's booklet: Survival Guide to Traveling with Lower Back Pain. Click above for more booklet info.