Mission Statement
It is my goal to assist my patients in their return to health as comfortably and quickly as possible. I encourage education and active participation of my patients in their achieving and maintaining optimum health. 
--Dr. Lisa Devlin



Lisa Devlin, DC, MS is an Activator Methods Chiropractic practitioner.  She has been in private practice in Mountain View, CA since 1993.  Three times voted the "Best Chiropractor in Mountain View" in 2005, 2006, and 2007, Dr. Devlin's mission is to assist her patients in their return to health as comfortably and quickly as possible. She encourages education and active participation of her patients in their achieving and maintaining optimum health. She explains to each patient what their condition is and the treatment procedure. If you have a question, she is always accessible via phone or email.

Sponsorship - Auto Racing as a Marketing Tool
A race team is more than a rolling billboard advertising your business, you also get a professional driver who can help you network your business. In the regional road racing series of the San Francisco Region of the Sports Car Club of America (SCCA), you will be primarily attracting the attention of the race car drivers, their family and crew, and race officials. In reviewing the enclosed national demographic study of SCCA members, one finds that most are between the ages of 25-49, they are in professional or managerial positions, they have attended college and they have an above average household income.

Race car drivers tend to be very brand loyal and will support companies that support racing. By sponsoring a race team, you create a linkage between your business and the racers and officials at the track. Last year there was an average of 229 race entries per race. Each of these 229 drivers brings an average of two crew or family members to the race. In addition, there are approximately 200 race officials per race.

Sponsoring Dr. Lisa Devlin will give you a professional who is very comfortable with public relations and networking. She is a driver and a race official and can, therefore, be a liaison between your business and both of these groups. In addition, she enjoys writing and is a featured writer on an internet website, Thunder Valley Racing. This website features women in motor racing and gets an average of 12,000 page visits per month.

Benefits
The rights to use the likeness of the car and driver in your other business advertising.
Repetition of your advertising throughout the racing season - March through November.
Your business name on the race car. A table set up in the pit area for dissemination of information about your business. The opportunity to network with race car drivers, their crew, and race officials. Your business name announced over the loudspeaker as the main sponsor of the car during qualifying and racing sessions. Your business name in print as the main sponsor of the car on the class list, qualifying sheet, and race results.
An 8 x 10 professional photograph of the car during a race to hang in your office.
Media
You will be featured as the main sponsor in an article after races on the internet at Thunder Valley Racing.
Your name in print in "The Wheel" - the publication of the San Francisco Region SCCA - as the main sponsor of the car in the published qualifying and race results.
Press releases will be sent to "The Voice" in Mountain View.
You will be featured as a sponsor on my office web site with a link to your web site.
Dr. Lisa Devlin, D.C., M.S.
1265 Montecito Ave., Ste. 105
Mountain View, CA 94043

Phone: 650.428.0950



Office Hours

Monday

10-6

Tuesday

8-noon
Afternoon off site for Animal Care

Wednesday

9-5

Thursday

Off site for Animal Care

Friday

8-5

On rare occasions, my office hours may change. Please check the Calendar or call the office for up to date information.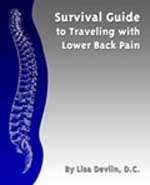 Please check out Dr. Lisa's booklet: Survival Guide to Traveling with Lower Back Pain. Click above for more booklet info.