Mission Statement
It is my goal to assist my patients in their return to health as comfortably and quickly as possible. I encourage education and active participation of my patients in their achieving and maintaining optimum health. 
--Dr. Lisa Devlin



Lisa Devlin, DC, MS is an Activator Methods Chiropractic practitioner.  She has been in private practice in Mountain View, CA since 1993.  Three times voted the "Best Chiropractor in Mountain View" in 2005, 2006, and 2007, Dr. Devlin's mission is to assist her patients in their return to health as comfortably and quickly as possible. She encourages education and active participation of her patients in their achieving and maintaining optimum health. She explains to each patient what their condition is and the treatment procedure. If you have a question, she is always accessible via phone or email.

Racing Biography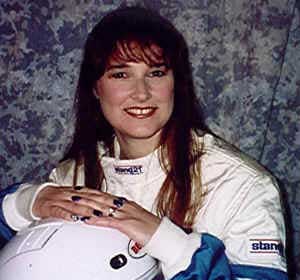 Dr. Lisa Devlin first got into performance driving through the Pantera and Shelby Clubs. Open tracking with the clubs gave her the opportunity to drive her street car on a real race track at speed. It was also a great way to learn and refine performance driving skills that were beneficial both on and off the track. Lisa was 25 when she took her first track excursion at Laguna Seca in August 1989 and was immediately hooked.
She got her racing license in 1996 with an 82 RX7 that she built from a street car. Although, she never completed a full season in the RX7, she did gain valuable seat time in preparation for her next endeavor - a faster car.
She helped build her next race car - an A-Mac D Sports Racer - from the ground up. It was in this car that her racing career finally got going. In her first full season of racing, Lisa drove to a second place finish in the San Francisco Region Sports Car Club of America (SCCA) Regional Road Racing series championships - only six points behind the first place driver. In addition, the Racing Driver's Club (RDC) awarded her a Second Place finish in their championship race and voted her the recipient of the James Hughes Memorial Trophy for the Most Improved Driver in Northern California. This Trophy goes back to 1960 and Lisa's is the first female name to be added since that time.
Lisa's sophomore season in the DSR wasn't quite what she'd hoped it would be. She had two DNF's (did not finish) in the first three races. Despite the adversity, Lisa still managed to better her personal lap record almost every time she hit the track. In the end, she still came out of the season with another second place in the SF Regional Championship series and a first place in the RDC Championship series.
In 2001, Lisa purchased a new car, a Swift DB2, Sports 2000. Lisa raced this car in October of 2001 and is spending 2002 working on it. She is hoping to get it back out to the track in 2003.

Besides driving, the Shelby Club and the SCCA afforded Lisa the opportunity to become involved in other aspects of the track. She has been active in the Nor Cal Shelby Club's annual "Mini-Nats" convention, volunteering in the capacity of Car Show Chairperson and Registration Chairperson. With the SCCA, she is involved with Timing & Scoring, and she is on the board of directors for the Racing Driver's Club.
Professionally, Dr. Lisa Devlin is a chiropractor in private practice for the past six years in Mountain View, CA. She specializes in the Activator Method Chiropractic Technique and is a Certified Chiropractic Sports Practitioner. She is also certified in animal chiropractic by the American Veterinarians and Chiropractors Association.
As a business owner, Dr. Lisa Devlin is very comfortable on and off the track in public relations and networking. Her training in voice acting has also made her very comfortable in front of a microphone. Besides volunteering at the track, she is also very involved in the community as a volunteer. Some of her off-track volunteer work includes serving on the Women in Business Steering and the Ambassador Committees for the Mountain View Chamber of Commerce, organizing food drives to benefit the local Community Services Agency, and reading day at the local grade school. Her track related volunteer work includes Timing & Scoring for the SCCA and driver instruction for the Nor Cal Shelby Club. She also enjoys writing about her experiences behind the wheel, and is currently featured on an internet newsletter called Thunder Valley Racing.
Dr. Lisa Devlin, D.C., M.S.
1265 Montecito Ave., Ste. 105
Mountain View, CA 94043

Phone: 650.428.0950



Office Hours

Monday

10-6

Tuesday

8-noon
Afternoon off site for Animal Care

Wednesday

9-5

Thursday

Off site for Animal Care

Friday

8-5

On rare occasions, my office hours may change. Please check the Calendar or call the office for up to date information.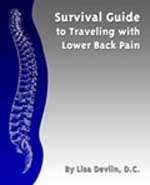 Please check out Dr. Lisa's booklet: Survival Guide to Traveling with Lower Back Pain. Click above for more booklet info.