Mission Statement
It is my goal to assist my patients in their return to health as comfortably and quickly as possible. I encourage education and active participation of my patients in their achieving and maintaining optimum health. 
--Dr. Lisa Devlin



Lisa Devlin, DC, MS is an Activator Methods Chiropractic practitioner.  She has been in private practice in Mountain View, CA since 1993.  Three times voted the "Best Chiropractor in Mountain View" in 2005, 2006, and 2007, Dr. Devlin's mission is to assist her patients in their return to health as comfortably and quickly as possible. She encourages education and active participation of her patients in their achieving and maintaining optimum health. She explains to each patient what their condition is and the treatment procedure. If you have a question, she is always accessible via phone or email.

The Swift DB2 Sports 2000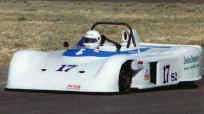 The Swift DB2 is a purpose built sports racing car. It has a monocoque chassis with a fiberglass body that encloses the wheels. Power is provided by a 2 liter Ford Pinto motor and it is driven by a Hewland Mark 9 gearbox.
The car and driver weigh a minimum of 1310 pounds and the engine puts out around 140 horsepower. Top speed is approximately 140 mph. All cars in the Sports 2000 class use the Ford 2 liter power plant.
The Swift DB2 Sports 2000 was selected for this team because of its handling and reliability. The winning reputation in this class didn't hurt either! The Pinto motor is known for its durability.
The Sports 2000 class runs in a group with other racing classes including sports racers and formula cars. This group of car classes is one of the fastest and most exciting.
Dr. Lisa Devlin, D.C., M.S.
1265 Montecito Ave., Ste. 105
Mountain View, CA 94043

Phone: 650.428.0950



Office Hours

Monday

10-6

Tuesday

8-noon
Afternoon off site for Animal Care

Wednesday

9-5

Thursday

Off site for Animal Care

Friday

8-5

On rare occasions, my office hours may change. Please check the Calendar or call the office for up to date information.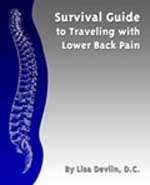 Please check out Dr. Lisa's booklet: Survival Guide to Traveling with Lower Back Pain. Click above for more booklet info.