Mission Statement
It is my goal to assist my patients in their return to health as comfortably and quickly as possible. I encourage education and active participation of my patients in their achieving and maintaining optimum health. 
--Dr. Lisa Devlin



Lisa Devlin, DC, MS is an Activator Methods Chiropractic practitioner.  She has been in private practice in Mountain View, CA since 1993.  Three times voted the "Best Chiropractor in Mountain View" in 2005, 2006, and 2007, Dr. Devlin's mission is to assist her patients in their return to health as comfortably and quickly as possible. She encourages education and active participation of her patients in their achieving and maintaining optimum health. She explains to each patient what their condition is and the treatment procedure. If you have a question, she is always accessible via phone or email.

Power Partners
| | |
| --- | --- |
| | The Foot Rescue offers Neuro-Reflex Therapy, Bentley Method (NRT) for your feet and hands. NRT provides relaxation, increased circulation, pain relief and an overall feeling of well-being for people with chronic pain. It is a unique combination of massage and reflexology to relax your feet while also stimulating the nerves and increasing blood supply. You enjoy pain relief, relaxation, balance and more energy! You feel pampered while doing something good for your feet and whole body. |
| | Nutrition Response Testing is a non-invasive system of analyzing the body to determine the underlying causes of ill or non-optimum health. Our clinically proven system may be quite different from any other healing practice that you may have experienced. The body responds to the procedure reliably and consistently. This feedback is so precise that it opens the door to a safe and lasting recovery, even in cases where everything else has failed. |
Dr. Lisa Devlin, D.C., M.S.
1265 Montecito Ave., Ste. 105
Mountain View, CA 94043

Phone: 650.428.0950



Office Hours

Monday

10-6

Tuesday

8-noon
Afternoon off site for Animal Care

Wednesday

9-5

Thursday

Off site for Animal Care

Friday

8-5

On rare occasions, my office hours may change. Please check the Calendar or call the office for up to date information.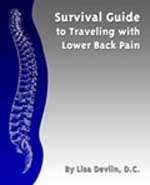 Please check out Dr. Lisa's booklet: Survival Guide to Traveling with Lower Back Pain. Click above for more booklet info.