Mission Statement
It is my goal to assist my patients in their return to health as comfortably and quickly as possible. I encourage education and active participation of my patients in their achieving and maintaining optimum health. 
--Dr. Lisa Devlin



Lisa Devlin, DC, MS is an Activator Methods Chiropractic practitioner.  She has been in private practice in Mountain View, CA since 1993.  Three times voted the "Best Chiropractor in Mountain View" in 2005, 2006, and 2007, Dr. Devlin's mission is to assist her patients in their return to health as comfortably and quickly as possible. She encourages education and active participation of her patients in their achieving and maintaining optimum health. She explains to each patient what their condition is and the treatment procedure. If you have a question, she is always accessible via phone or email.

Introduction to the Booklet
"If you travel, either for business or pleasure, and you have lower back pain, this guidebook will help you survive and thrive on your trip. Whether your pain is acute or chronic, you will find tips to help you travel more comfortably. In addition, this booklet will guide you in finding the most appropriate practitioner to take care of you should that need arise once you've arrived at your destination. I've also included a Health Care Summary and a Travel Checklist to help you prepare for your journey.
The idea for this guidebook started when I noticed that my patients were coming back from their vacations with the same complaints: Their backs would hurt while they were away, so they'd get a massage, which would only make them feel worse; or they would have an injury, but didn't know how to find a chiropractor; or they knew they needed ice, but didn't know where to find any. When I realized that I was saying the same things repeatedly, I figured it would be easier to write down all of the vital information that everybody needed. Mari Ann Robson had a travel newsletter that she sent to her clients, so I wrote an article for her about traveling with back or neck pain. It was that article that formed the outline for this booklet.
This guidebook is a result of the advice I've given to my patients over the years. It is to be used as a guide to help you to work with your health care providers. I made it short and to the point so you'd read it, and small enough so you could tuck it in your purse or carry-on for reference. Make notes in it. Highlight the pertinent information. Use the resources at the end of the booklet to educate yourself. I've always felt that the better educated and informed a patient is, the better the care that patient receives.
Happy travels!"
---
Table of Contents
Acknowledgments
1
Introduction
3
General Tips
4
Supplements and/or Medications
4
Hydration
5
Ice
6
Pillows
7
Movement - Exercise and Stretching
8
Exercise
10
Enlist the Help of Others
11
Health Professionals
12
Chiropractic
14
Massage Therapy
19
Acupuncture
23
Health Care Treatment Summary
25
Treatment Summary Sheet
26
Resources
27
Travel Checklist
28
Biography
30
Dr. Lisa Devlin, D.C., M.S.
1265 Montecito Ave., Ste. 105
Mountain View, CA 94043

Phone: 650.428.0950



Office Hours

Monday

10-6

Tuesday

8-noon
Afternoon off site for Animal Care

Wednesday

9-5

Thursday

Off site for Animal Care

Friday

8-5

On rare occasions, my office hours may change. Please check the Calendar or call the office for up to date information.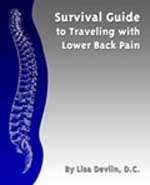 Please check out Dr. Lisa's booklet: Survival Guide to Traveling with Lower Back Pain. Click above for more booklet info.