Mission Statement
It is my goal to assist my patients in their return to health as comfortably and quickly as possible. I encourage education and active participation of my patients in their achieving and maintaining optimum health. 
--Dr. Lisa Devlin



Lisa Devlin, DC, MS is an Activator Methods Chiropractic practitioner.  She has been in private practice in Mountain View, CA since 1993.  Three times voted the "Best Chiropractor in Mountain View" in 2005, 2006, and 2007, Dr. Devlin's mission is to assist her patients in their return to health as comfortably and quickly as possible. She encourages education and active participation of her patients in their achieving and maintaining optimum health. She explains to each patient what their condition is and the treatment procedure. If you have a question, she is always accessible via phone or email.

Privacy Policy
General:
We care about providing you with tools and information to manage and protect your online privacy. We have developed this privacy policy to inform you about what information this web site collects, who may receive that information, what we may do with the information, and how long we keep it. While we have made every attempt to make this policy as clear as possible, if you have any further questions about it, feel free to contact us.
---
Your Information:


We will not give out any information you submit at our site to any third parties except in compliance with a request of a law enforcement agency. Under no circumstances will your name, e-mail, phone number or address be sold to, or given to any other parties. We will never willfully sell, lease, or rent any of your or your business' personally identifiable information to any third party.

---
Collected Information:
Your personal information is collected through our contact forms only. This website currently has no applications or programs that gather information from your computer without your consent. Users are required to give us contact information (e.g., your name and email address) and demographic information (e.g., your zip code). Certain information, such as your email address, is collected in order to verify your identity and for use in our records. Information collected at this website is kept in our records only as long as is necessary to provide requested services to our clients.
---
Summation
:
If you have any questions about this privacy statement or the practices of this site, please contact us.
Dr. Lisa Devlin, D.C., M.S.
1265 Montecito Ave., Ste. 105
Mountain View, CA 94043

Phone: 650.428.0950



Office Hours

Monday

10-6

Tuesday

8-noon
Afternoon off site for Animal Care

Wednesday

9-5

Thursday

Off site for Animal Care

Friday

8-5

On rare occasions, my office hours may change. Please check the Calendar or call the office for up to date information.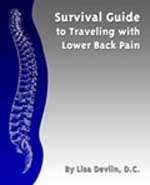 Please check out Dr. Lisa's booklet: Survival Guide to Traveling with Lower Back Pain. Click above for more booklet info.