Mission Statement
It is my goal to assist my patients in their return to health as comfortably and quickly as possible. I encourage education and active participation of my patients in their achieving and maintaining optimum health. 
--Dr. Lisa Devlin



Lisa Devlin, DC, MS is an Activator Methods Chiropractic practitioner.  She has been in private practice in Mountain View, CA since 1993.  Three times voted the "Best Chiropractor in Mountain View" in 2005, 2006, and 2007, Dr. Devlin's mission is to assist her patients in their return to health as comfortably and quickly as possible. She encourages education and active participation of her patients in their achieving and maintaining optimum health. She explains to each patient what their condition is and the treatment procedure. If you have a question, she is always accessible via phone or email.

Driving Resume of Dr. Lisa Devlin
Tracks Driven

Sears Point, Laguna Seca, Thunderhill, Willow Springs, Road Atlanta, Mid-Ohio

Road Racing

2001
Lapping day with Skip Barber
Double Regional race with new car and new class '85 Swift DB2, Sports 2000
Illgen 4 hour Enduro in RX7
2000
99 A-Mac DSR - Second place in the regional championship
1999
99 A-Mac DSR - Second place in the regional championship in her first full year of racing.
1998
82 RX7 ITA one race with Cal Club Region SCCA. Placed 11th.
94 A-Mac DSR - one race with SF Region SCCA. Placed first in CSR class.
1997
'82 RX7: Class RX7 with SFR SCCA.
Raced half season - placed 13/27 in overall standing with SCCA and 4th overall in Racing Driver's Club in RX7 class.
1996
'82 RX7: Class RX7 or ITA with San Francisco Region SCCA
Raced half season - placed 7/14 in overall standings with SCCA in RX7 class.
Hill Climb at Virginia City
Hosted by Ferrari Club of America
Car driven - 87 Mustang GT
1996
Best time 3:54.26 (Road was repaved) - 12/90 overall.
1995
Best time 3:52.89 - 18/90 overall.
1994
Best time 3:51.29 - 16/75 overall.
1992
Best time 3:56.29
1991
Best time 4:02
1990
Best time 4:11.55
Duel at DeAnza Autocross
Hosted by the Auto Tech Department at DeAnza College
1993
'87 Mustang GT. First place - FSPL (2nd in FSP)
1992
'91 Toyota MR2 Turbo. First place - BSL (5th in BS)
SCCA Solo II (Autocross)
Hosted by SFR
1991-1992
87 Mustang GT in ESPL. I only raced in a few races and placed either first or second every race.
Film
July 2000
Precision Driving for Honda television commercial.
May 2000
Featured in Fast Women - a documentary on women race car drivers.
Instructor
1997-present
Northern California Shelby American Automobile Club

Licensing

1997
National Competition License - SCCA

1996

San Francisco Region SCCA Driver's School
Regional Competition License - SCCA
Dr. Lisa Devlin, D.C., M.S.
1265 Montecito Ave., Ste. 105
Mountain View, CA 94043

Phone: 650.428.0950



Office Hours

Monday

10-6

Tuesday

8-noon
Afternoon off site for Animal Care

Wednesday

9-5

Thursday

Off site for Animal Care

Friday

8-5

On rare occasions, my office hours may change. Please check the Calendar or call the office for up to date information.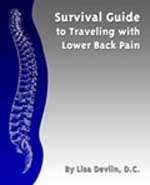 Please check out Dr. Lisa's booklet: Survival Guide to Traveling with Lower Back Pain. Click above for more booklet info.