Mission Statement
It is my goal to assist my patients in their return to health as comfortably and quickly as possible. I encourage education and active participation of my patients in their achieving and maintaining optimum health. 
--Dr. Lisa Devlin



Lisa Devlin, DC, MS is an Activator Methods Chiropractic practitioner.  She has been in private practice in Mountain View, CA since 1993.  Three times voted the "Best Chiropractor in Mountain View" in 2005, 2006, and 2007, Dr. Devlin's mission is to assist her patients in their return to health as comfortably and quickly as possible. She encourages education and active participation of her patients in their achieving and maintaining optimum health. She explains to each patient what their condition is and the treatment procedure. If you have a question, she is always accessible via phone or email.

Animal Chiropractic FAQs
---
Q. Does Chiropractic Work for Animals?
A. Chiropractic care can be appropriate for your animal. While there are obvious differences in anatomy and biomechanics between humans and animals, there are similarities in the structure, motion and function of the musculoskeletal systems; especially the spinal joints. Changes in the normal motion of the joints of the spine (whether due to trauma, physical stress, overuse, or poor conformation), can affect the normal function of the nervous system which controls or coordinates all other tissues in the body.

Many veterinarians and trainers request chiropractic care for the relief of symptoms such as back pain or a lameness that cannot be isolated to the lower limb, however many people are starting to see the value of chiropractic care in the absence of obvious symptoms where the results can be seen as increased performance and well-being.

Q. What Kind of Training Does an Animal Chiropractor Have?
A. The American Veterinary Chiropractic Association (AVCA) offers certification in animal chiropractic to licensed veterinarians or chiropractors. The AVCA was founded in 1989 by a group of chiropractors and veterinarians with the purpose of establishing standards of education and practice in the field of chiropractic care for animals. There are currently three locations in the US that offer courses in animal chiropractic that allow you to sit the certification examination. The basic certification course includes 150 hours of education followed by a comprehensive written and practical examination. 
Dr. Lisa Devlin, D.C., M.S.
1265 Montecito Ave., Ste. 105
Mountain View, CA 94043

Phone: 650.428.0950



Office Hours

Monday

10-6

Tuesday

8-noon
Afternoon off site for Animal Care

Wednesday

9-5

Thursday

Off site for Animal Care

Friday

8-5

On rare occasions, my office hours may change. Please check the Calendar or call the office for up to date information.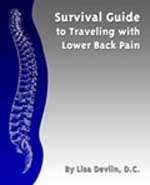 Please check out Dr. Lisa's booklet: Survival Guide to Traveling with Lower Back Pain. Click above for more booklet info.